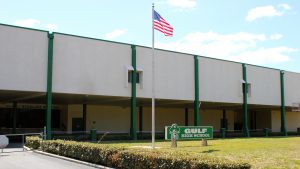 Gulf High School is an International Baccalaureate high school.    
Gulf High opened its doors on Sept. 18, 1922  in its original location, which is located on the corner of Gulf Drive and Grand Boulevard.  Read more —> Gulf High history
Our address is: 5355 School Road, New Port Richey, FL 34652-4322
Our phone # and fax is: Phone: 727-774-3300 Fax: 727-774-3387
OUR VISION STATEMENT: All our students achieve success in college, career, and life.                                                         
OUR MISSION STATEMENT: Providing a world-class education for all students.
Our school code is 0331. Pasco County is 051.
For the ACT or SAT, the school code is 101220.
An interactive Google map showing our school is here. Our attendance zone boundaries can be seen here –> map
The School Public Accountability Reports (SPAR) are here.
An image of our coat of arms is here.
A Buccaneer logo designed by Chad Stoneking is here.
Our school colors are kelly green and white.
The Buccaneer Fight Song is here.
You can read about the history of Gulf High School and see lots of old photos here.
If you wish to contribute information or photos or videos for the web site, we thank you in advance and you can email our webmaster at wrutherf@pasco.k12.fl.us. The Buccaneer band web site is maintained by Bill Rutherford and the NJROTC pages are maintained by CDR John McGuire.