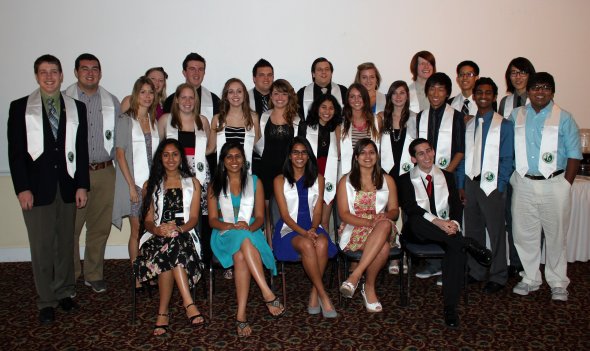 IB Dinner, May 20, 2012
---
Click link for IB Parent Night Presentation: IB Parent Night Presentation 2017
Frequently Asked Questions
What are the criteria for students to get into IB?
Student selection criteria includes the following:
1. minimum 3.0 GPA in core academics (language arts, math,science, social studies), for both semesters of seventh grade and the first semester of eighth grade (no semester grade below a "C").
2. an appropriate score on an assigned, timed 300-word writing sample, which is scored using the Florida Writes rubric;
3. completion of the high school credit in Algebra 1 with an "A" or "B" prior to being accepted into the program.
4. previous school attendance is within Pasco County Schools guidelines, i.e., not to exceed 9 days per semester.
5. proper behavior has been demonstrated in previous school environments
Our research suggests that demonstrated academic abilities, high achievement test scores, exceptional writing ability, accelerated math performance, steady school attendance and responsible behavior are key attributes of successful IB students around the world. Students not meeting all the criteria may be placed on a waiting list for future consideration if vacancies arise.
In their four-year program of study, do the IB students meet all the graduation requirements expected of regular diploma students?
The IB program of study will qualify students for graduation, but the courses taken will not necessarily match all the courses of students pursuing a regular diploma. If students exit the IB program, they will need to take those courses which are required for graduation in the state of Florida. This could include participation in adult education or online courses if necessary.
What are the differences between the IB Program and the Advanced Placement (AP) Programs available in each high school?
While AP and IB programs offer students a means of gaining college credit during high school, two substantive areas of difference between the programs are in the required course work and the examinations.
Required Courses:
International Baccalaureate courses are a package deal – students must take college level courses in six academic areas (English, foreign language, social studies, mathematics, science and a required elective). Additionally, students must complete the Theory of Knowledge requirement, a 4,000 word Extended Essay, and the Creativity, Action, and Service (CAS) component. These leadership and initiative requirements make the IB program stand out for some colleges and universities.
Advanced Placement (AP) courses are not necessarily linked together. Rather, students may choose to take one AP course without being required to take another. The IB Program requires students to perform at the college level in all academic areas while the AP Program allows students to pursue only their strengths and course interests.
Examinations:
International Baccalaureate course credit is awarded to students based on an intricate assessment process. IB test scores are based on at least three sources of data: the score received on the external IB examination which is administered in either the eleventh or twelfth grade; written papers, oral examinations, or lab activities completed in the high school, graded by the teacher, then submitted to the IB Organization; and a teacher predicted grade for each student in course work examinations.
Advanced Placement course credit is based upon students' performances on written examinations which are administered by the College Board in May and scored by high school and college teachers at Advanced Placement Readings. These take place at various colleges and other academic locations nationwide in June of each school year. Scores for both AP and IB exams are released to the students in July.
What are the benefits of the IB Program?
Under current conditions, students who earn the IB Diploma are eligible to receive the Florida Academic Scholars Award, provided they meet Florida Department of Education criteria and deadlines for applying. Students who complete the program of study for the IB program, but who do not earn the IB Diploma, are eligible for the Florida Academic Scholars Award as long as their SAT score is 1280 or their ACT is 28, and they complete 100 community service hours. Students can qualify for the Florida Medallion Scholars if they earn a 22 on the ACT or 1020 on the SAT and complete 75 hours of community service. These requirements are reviewed each legislative session and are subject to change. It is evident, though, that our lawmakers recognize the benefits of the challenging courses IB students have taken.
Designated IB courses are weighted at 1.0 quality points, while state-designated Pre-IB courses are weighted at .5 quality points for the purpose of calculating grade point averages (GPA's).
There are currently a number of universities and colleges that offer students college credit (i.e. "standing") and/or stipends when they earn an IB Diploma, or when they complete the curriculum, thus earning an IB Certificate. Students should check directly with the colleges/universities they wish to attend to determine their most recent policies regarding the acceptance of the IB Diploma and course work.
What does the student need to do in order to maintain standing in the program?
Students will be expected to maintain appropriate academic progress towards the IB Diploma. This includes passing all courses and maintaining a minimum 2.0000 unweighted GPA. Student progress will be carefully monitored by the IB program staff, and parent conferences may be requested at any time by either parents or school staff.
Can a student take one or two IB courses without being in the IB program?
No, only students who are enrolled in the IB program take the courses prescribed by the four-year program of study.
Will all high schools continue to be able to offer a full spectrum of advanced level classes?
The District School Board of Pasco County is committed to providing the best educational opportunities to all students. Therefore, schools will continue to offer Advanced Placement/ Dual Enrollment opportunities for students. Currently, Gulf High School and Land O'Lakes High School offer the IB program. Students who apply and qualify will attend Gulf High School if they are west of the Suncoast Parkway. Those students who are east of the Suncoast Parkway will attend Land O' Lakes High School.
In what ways will participation in IB impact students' time?
The academic requirements of the IB Program are demanding. They require making choices about limited elective opportunities, balancing extra-curricular activities, and the efficient use of after school time. Students will need to develop good time management skills and the ability to set reasonable priorities.
Will the IB students be considered students of Gulf High School? Will their diplomas be issued by Gulf High School?
Gulf High School will be the IB students' high school, since they will be enrolled there as full time students. Students will receive a high school diploma upon satisfactory completion of the four-year IB program and any additional Florida requirements for a regular diploma. If they also meet the criteria for an IB Diploma, they will receive that diploma at a later date. Exam results are available in mid July.
What will be the nature of the interaction between the IB students and the rest of the school?
The IB program will be like other Learning Communities – students will interact with the larger framework of the school, but have close relationships among their peers. There will be some limited opportunities to participate in appropriate elective courses (such as band, chorus) with other students. Students can, and will be encouraged to participate in clubs and other extracurricular activities at GHS.
Will clubs be available?
Yes, and IB students will be encouraged to participate in the numerous clubs offered at GHS.
Will transportation to Gulf High School be provided? If so, what about extracurricular activities for IB students?
The School Board will provide limited transportation through a "shuttle service" that stops at schools in the west coast area (Fivay, Ridgewood, River Ridge, J. W. Mitchell, Hudson, Anclote). Parents will be responsible for getting students to and from the school they choose. Please refer to the bus schedule for your particular drop off site. GHS dismisses students at 1:40 PM and bus schedules indicate site times. Students who exit the IB program are no longer eligible for this "shuttle service."
There will not be a "late" bus to provide after school activities transportation. In any case, students whose parents can arrange transportation will be able to participate in extracurricular activities offered, provided they meet the criteria expected of all other students for the extracurricular program or events.
What training is provided for teachers in this program?
There is extensive, on-going training of teachers in the IB curriculum provided by IB authorized sources, both throughout the school year and in the summer. Also, many of the faculty are trained in Advanced Placement curriculum.
Is there a special recruitment or placement program to help IB students gain admission to top universities?
No, however special reporting procedures are in place through International Baccalaureate North America (IBNA) to more clearly explain the IB course work to colleges and universities. For more information, see the website http://www.ibo.org. It has been the experience of other IB programs that IB students are contacted by colleges/universities throughout the United States once their high school program is established. In addition, students should peruse the websites of prospective colleges and universities for specific information and policies.
What will happen if students want to enter or exit after established timelines?
Qualified transfer students from other IB programs will be entered upon their enrollment in Pasco County, if space is available. In addition, qualified students who have not been enrolled in Pre-IB courses, but who demonstrate mastery of our unique course work through various assessments may also apply for admission.
A process has been developed for students desiring to exit the program. Because the program will provide ongoing counseling and assistance to students, the decision to exit should be carefully considered by parents, students and staff. While student success is the foremost consideration, parents and students need to understand that this program will require ongoing communication and sustained commitment from students, family and school staff to be successful.
Who will make the decision about a student's acceptance status in the Pre-IB Program?
The IB admissions committee, consisting of the IB Coordinator, representative IB teachers and counselor will review all applicant information.
Text revised on Sept. 12, 2012.