Homecoming Week is upon us! Below, you will find information for our dress up days, GHS Homecoming Parade (9/21/22), Football Game (9/23/22), and Dance (9/24/22). Please refer back to this page for any updates!
Week at a Glance (HoCo 2022 poster)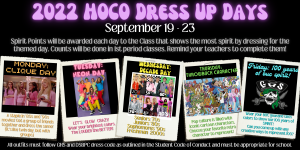 GHS Homecoming Parade
We will end the school day early! Please be prepared at home for your students to leave school at 11:30am – buses will provide typical transportation at the earlier time.
Our parade is through downtown New Port Richey along Grand and back to school.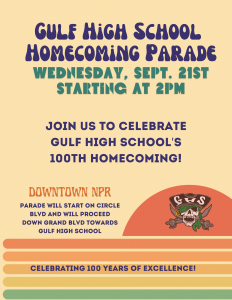 Bell Schedule for September 21, 2022:
Link to bell schedule (make note of lunches!) Early Release for GHS Parade
GHS Homecoming Football Game – GHS vs Central
Varsity Football Game is September 23, 2022 at 7:30pm (More info coming soon!)
Buy tickets from gofan.com
GHS Homecoming Dance and Permission Slip
Please review all handouts, note deadlines for submissions, guest form information, and criteria to attend the dance. These are critical details!
Need a guest form? Get it here: HOCO Guest Form 2022
Need an appeal form? Get it here: https://ghs.pasco.k12.fl.us/mform/view.php?id=141925