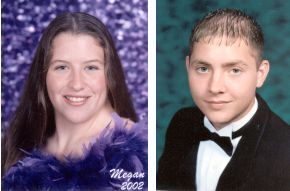 Megan Rashid and Salvatore Torre have been selected as valedictorian and salutatorian of the Gulf High School class of 2002.
Megan Rashid, the valedictorian, is a daughter of Karen and Gary Motteler of Hudson. She is President of the National Honor Society, Vice President of Interact, Vice President of the French Honor Society, Quartermaster in band for the past two years, and member of the Math Honor Society.
She has a four-year varsity letter in track and field, a three-year varsity letter in weightlifting, and a one-year varsity letter in soccer. She also was on the cross country team and was a three-year participant in All-County Band.
She is a 2001 recipient of the Book Award from the University of Chicago Alumni Association.
She plans to attend the University of Florida. She said, "I don't quite know what I want to do yet, but I know that it will have something to do with forensic science of some sort. Right now I am leaning towards forensic psychology, with maybe a minor in criminology."
Sal Torre, the salutatorian, is a son of Salvatore Torre Sr. and Patricia Torre. He is Vice President of the Math Honor Society, Treasurer of the Spanish Honor Society, and a member of the National Honor Society and Interact.
He is captain of the baseball team at Gulf, and won the Baseball Coaches Award in 2000. He has been named to Who's Who Among American High School students, is an All American Scholar, attended the National Young Leaders Conference, and was invited to the American Legion Boys State and the Presidential Classroom.
He has done community service for the Greater Holiday Little League and St. Vincent De Paul Catholic Church.
He says that his intended majors are Engineering and Business Management and Administration.