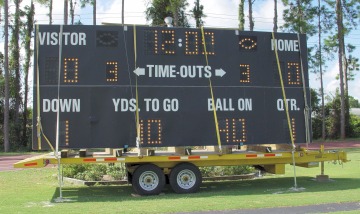 For the first time anyone could remember, Gulf High School played a daytime football game today.
The Buccaneers took on Land O' Lakes in the first regular-season game of the year (not counting the Nature Coast Technical High School game, which featured three quarters of varsity play and one quarter of JV play).
Last week's game against Mitchell was canceled because of Hurricane Frances.
Today's game was played one day later than originally scheduled. The start time was moved up to 11 a.m., in part because it was felt there would be a smaller chance of rain at that time, and because Hurricane Ivan was possibly threatening Florida.
Attendance was noticeably smaller than usual. The Land O' Lakes band did not come. The Gulf band did not do a half-time show, although it did play the national anthem before the game.
The Des Little Stadium scoreboard, which was blown down by Hurricane Frances a few days ago, was found to be still in working order. It was held up by a temporary support system (see the photo above). Part of the scoreboard, which displays the name of the stadium and the Pepsi logo, was not included in the temporary system. The scoreboard was paid for by Pepsi.
The final score: Land O' Lakes 19, Gulf 14.