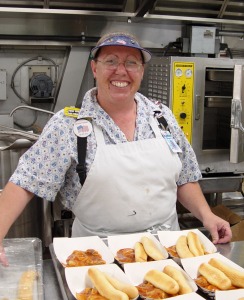 Judy Neptune has been named the employee of the year among non-faculty members at Gulf High School.
Mrs. Neptune works in the GHS cafeteria and is classified as a Food And Nutrition Services Assistant I. She has been at Gulf since 1999.
One of her sons, Jonathan, is currently a junior at Gulf. Another son, Kenny, graduated from Gulf in 2003, and a daughter, Teresa, graduated in 2001.
She and her husband, Ted Neptune, live in New Port Richey.
Mrs. Neptune was born and grew up in Au Gres, Michigan. She has lived in Florida since 1981.
The announcement of her selection was made today by Cathy Mirenda, who is the chairperson of the SRP of the Year Selection Committee.
Employees of the Pasco County school district who are not teachers are called School Related Personnel.