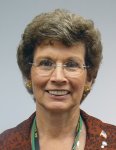 Patricia Haynes, who has been an Assistant Principal at Gulf High School since 1987, will retire soon. Her last day at school is scheduled to be Jan. 20.
Mr. Imerson thanked her for her years of service to Gulf at a faculty meeting after school today and he presented her with several gifts. A larger event to honor Mrs. Haynes will take place Friday night in New Port Richey.
Mrs. Haynes (then Miss Courtade) came to Gulf in 1984. She was a science teacher then and taught biology in Room 205.
In October 1985 she was promoted to Dean of Girls. Deans were replaced by assistant principals in Pasco County shortly thereafter, and she became the Assistant Principal for Student Services at Gulf in September 1987.
Mrs. Haynes was the cheerleading sponsor in 1986-87 (believe it or not!). In fact, today she was wearing a necklace the cheerleaders gave her as a gift that year.
In 1988 she married Al Haynes. Mrs. Haynes said that she and her husband intend to travel in the United States once her retirement begins.
Patricia Courtade was born in Waterbury, Connecticut. She attended high school at St. Michael's Academy in Manhattan. She received a B. S. degree in education from St. Joseph's College for Women on Long Island and an M. S. degree in education from Hofstra University on Long Island.
She taught for seven years at Holy Name of Mary School on Long Island, and for ten years at St. Agnes Cathedral High School in Rockville Centre, Long Island, before coming to Gulf.
She has been a Rotarian since 1993. She was named Rotarian of the Year by the Holiday Rotary Club in 1998-99, and subsequently was named a Paul Harris Fellow. In May 2004 she was selected as the School Administrator of the Year by the Pasco County Sheriff's Office.