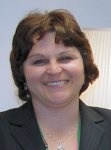 Florence Buono was named Assistant Principal for Student Services by the school board on Tuesday. Her first day on the job was yesterday.
Mrs. Buono replaces Patricia Haynes, who retires tomorrow.
Mrs. Buono has taught math at J. W. Mitchell High School in New Port Richey since that school opened in 2000. This year she taught Algebra II Honors and Advanced Topics. She has also been the girls track and cross country coach at Mitchell.
Before teaching at Mitchell, she was on the faculty of Bishop Larkin School in Port Richey for two years and she taught math for four years at Ridgewood High School.
She has a B. A. degree in mathematics education from the University of South Florida and an M. Ed. degree in Educational Leadership from USF.
She was born in the Bronx, New York. For two years she attended Preston High School, a private college-preparatory school for women established by the Sisters of the Divine Compassion in the Throgs Neck section of the Bronx. Her last two years of high school were spent here in Pasco County at Hudson High School, from which she graduated.
Her husband, Frank Buono, teaches science at Hudson High School and coaches boys track and cross country. They have two boys, one at Mitchell and one at Hudson High School.