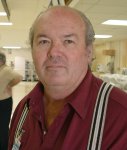 Denis Snodgrass, who has been a custodian at Gulf since 1981, will retire on May 27.
Mr. Snodgrass is currently our second-longest serving custodian, after Eddie Morgan.
He was employed the Pasco County school district in 1971 and originally worked in the transportation department.
He was born in Brisbane, Australia, in 1945, and came to the United States in 1947. He grew up in Sarasota.
He and his wife Jo Ann live in Hudson. They have two sons.
Besides working at Gulf, Mr. Snodgrass raises horses. He says he will continue doing so after retirement. He currently owns 16 horses. They are quarterhorses, Tennessee Walkers, and Haflingers.