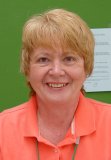 Sandra Laniewicz, who has taught at Gulf High School for 19 years, will retire at the end of the school year.
This year Mrs. Laniewicz taught 11th and 12th grade English and Intensive Reading.
Before coming to Gulf, she taught English for four years at Homer High School in Homer Illinois. Before teaching in Illinois, Mrs. Laniewicz taught 5th grade to American dependents at Ramstein Air Base in Germany and fourth grade at Zaragoza, Spain. Earlier, she taught English and reading in the Kenmore School District in New York state and she began her career teaching English in the West Seneca School District in Erie, Pennsylvania.
Sandra Goss was born in Erie. She attended Lawrence Park High School in Erie. She has a B. A. degree from Villa Maria College in Erie. She has been married to Thomas Laniewicz for 44 years. One of their children is Kim George, a teacher at Bayonet Point Middle School; the other is Thomas Laniewicz Jr., who lives in Toledo, Ohio. Mrs. Laniewicz and her husband also have two grandchildren.
She says her hobbies are reading and boating. For the first year of retirement, she plans to "relax and sleep, and after that, we'll see."