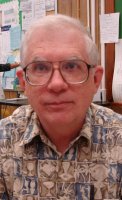 Robert Brown, who has taught at Gulf High School for 35 years, will retire at the end of the current school year.
Mr. Brown was hired by Gulf High School at the beginning of the 1971-72 school year. The photo on the right is from the 1975 yearbook. Mr. Brown has taught here longer than anyone else on the current faculty. When he started at Gulf, the school was located on Louisiana Avenue.
He currently teaches English and was hired as an English teacher, but for 19 years beginning in 1980 he taught Alternative Education. He has taught all grade levels, and says that many times he has taught the children of his earlier students. In "two or three" cases, he has taught the grandchildren of former students.
Mr. Brown was born in Boston in 1943. He graduated from Holbrook High School in Holbrook, Mass., in 1961. After high school, he worked in various jobs, including at Winn-Dixie and a box factory, and he was employed by R. L. Polk and Co. to gather information for their city directories. He subsequently attended USF, where he obtained a B. A. degree in English Education in 1971.
Gulf High School is the only school at which Mr. Brown has taught. His wife Pam also works at Gulf as a secretary.