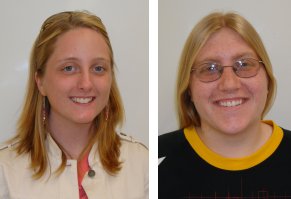 Jessica Michelle Bennett and Emily Grace Guida have been named valedictorian and salutatorian for the Gulf High School class of 2006.
Jessica, the valedictorian, is the daughter of Ron and Petra Bennett of Holiday. She was born in Neustadt an der Aisch, Bavaria, Germany, and came to the U. S. most recently in 1997. She attended ten different elementary schools before she attended Seven Springs Middle School. She has lived in Texas, Florida, Tennessee, and Germany.
She has a 4.39 GPA. She is undecided about college plans but hopes to study in the math and science field. Jessica is the band captain, and a member of the Tri-M and Math Honor Societies. She played softball for two years. Asked what she likes to do, she replied, "Hang out with my bestest bud in the whole wide world, Emily Bahr." She says she loves ice cream and wants to travel when she is older.
Emily, the salutatorian, has a GPA of about 4.2029. She is the daughter of Bernadette and Steven Guida Sr. of New Port Richey. She was born in Saginaw, Michigan. She attended Gulf Middle School and attended Land o'Lakes High School in the IB program in the 9th and 10th grades. She transferred to Gulf for the 11th and 12th grades.
She expects to attend USF and major in psychology and perhaps criminology. She hopes to work in the fields of abnormal psychology and criminal psychology. She is a member of the National Honor Society and Interact. Her hobbies are playing guitar, keyboard, and drums, and she says she likes martial arts.