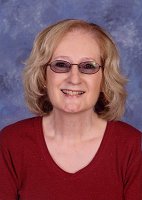 Vivian Jolin, who has taught at Gulf High School since the 1978-79 school year, has retired.
She most recently taught Life Management, but started at Gulf teaching Food and Nutrition, which she taught only for one semester. She then switched to Clothing and Textiles, which she taught for 16 years. This was a one-semester class. There were 20 sewing machines in the classroom. The class was taken mostly by girls, but some boys took it in later years.
She subsequently taught Physical Science, Earth Science, and Biology to students in the ESE program for ten years.
Mrs. Jolin only decided to retire about two weeks before the start of the school year. She had a second hip-replacement surgery over the summer, and found that she needed to stay home to recover from the surgery fully.
Vivian Jolin was born in Woonsocket, R. I. She attended Pensacola High School, where she played basketball, despite her height. She also played softball. She graduated from the University of Montevello in Montevello, Alabama, in 1967. After college she taught for 3½ years at Gulf Breeze Middle School before coming to Gulf, where she taught for 29 years. She did not teach for six years when she had her children. She was married to Robert Gupton for eight years, and many of her former students remember her as Mrs. Gupton. Her father died in 1987 and the following year she changed her name back to Jolin to honor him, as she was an only child. Her son, Robert Gupton, is a paramedic and firefighter in Spring Hill. He has four children. Her daughter, Shannon Mobley, has four children.