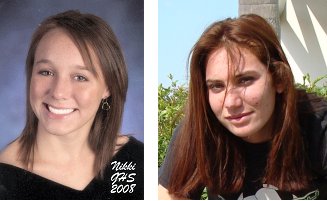 Jennifer "Nikki" Johnson and Courtney Cohen have been named the valedictorian and salutatorian of the Class of 2008. Mr. Imerson made the announcement on Monday.
Nikki is the daughter of Christina and Larry Johnson. She was born in Dunedin and has lived in New Port Richey her entire life. She attended Cotee River Elementary School and Gulf Middle School before she came to Gulf. She plans to attend the University of Florida, where she will be a pre-med student. She plays varsity volleyball and is captain of the varsity track team. She is president of the Math Honor Society and Student Council, secretary of the National English Honor Society, treasurer of the National Honor Society, and a member of the Spanish Honor Society. She works at Publix. Her GPA is 4.46.
Courtney is the daughter of Philip and Amy Cohen. She was born in St. Petersburg and lives in New Port Richey. She plans to attend Ohio University, where she will major in Journalism and Broadcast Communications. She hopes to obtain a master's degree at Columbia University. Courtney is president of the National Honor Society and historian of the Young Democrats and she is a member of the Math Honor Society and English Honor Society. She payed varsity soccer, varsity football, varsity track, and was a varsity cheerleader. As a kicker, she was the first girl to play football in the history of Gulf High School. She holds the school shot put record. She is a four-year varsity letter earner in soccer and a four-year member of the SAC All-Academic Team. She works at Delectables Fine Catering, and she loves cupcakes. Her GPA is 4.25.