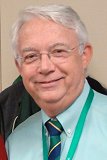 Thomas Imerson, who has been Gulf's principal since 2002, will move to a position at school district headquarters on June 9, pending school board approval.
On Monday night, Mr. Imerson told the members of the School Advisory Council that he would be leaving Gulf. He informed the faculty and staff in a memo today.
In the memo, Mr. Imerson thanked the administrators, faculty, and staff for their dedication to GHS and the teaching profession. He said he hoped to continue to have a meaningful role in the education of children of Pasco County.
Mr. Imerson has been at Gulf for 15½ years—9½ years as Assistant Principal and six years as Principal. He left Gulf in February 2001 to become principal of Hudson Middle School, but returned to Gulf to become its principal on July 1, 2002. Mr. Imerson began his career in Ohio and worked in assistant principal and principal positions in public and private schools there from 1969 to 1982. He moved to Florida in 1982 and served as an assistant principal at Clearwater Central Catholic High School for four years. He then came to Pasco County, working as an assistant principal at Ridgewood High School from 1986 to 1991.
Mr. Imerson will introduce his successor to the faculty and staff on May 6.