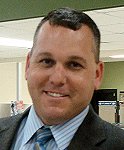 Steve Knobl, currently the principal at Bayonet Point Middle School, will become Gulf High School's next principal, effective June 9. The school board made the appointment at its meeting this morning. Mr. Knobl will succeed Thomas Imerson, who will move to a position with the district.
Stephen J. Knobl Jr. is 36 years old. He was born and raised in Long Island, N. Y. He earned a full scholarship from St. Leo and played baseball. After a series of injuries, he ended his playing career and transferred to the University of Central Florida, from which he earned a degree in elementary education. He began his teaching career at Richey Elementary School in 1994. In 1998 he accepted a teaching position at River Ridge Middle School, where he taught critical thinking. He moved to River Ridge High School the following year and taught driver's education and PE. While at River Ridge he coached girl's golf, football, girl's basketball, and baseball. In 2000 he accepted a position at Mitchell High School as a driver's education teacher and a department head. He coached girl's golf and girl's basketball. He was also the school's business manager. He completed his master's degree from St. Leo in 2000. In August 2002 he became the Assistant Principal for Curriculum and Instruction at Land O'Lakes High School. In 2005 he transferred to Gulf Middle for a year as an assistant principal and in 2006 he was promoted to principal of Bayonet Point Middle School. He is currently pursuing a Ph. D. in Curriculum and Instruction at USF and hopes to graduate with this degree in the summer or in the fall. Mr. Knobl and his wife Laura have two boys, Drew, 6, and Nathan, 3.
Mr. Imerson introduced Mr. Knobl to the faculty and staff at a meeting after school today.