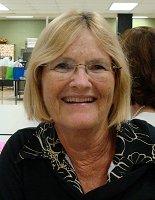 Wendy Kall, who has been the school social worker at Gulf since 1980, will retire at the end of the school year. Mr. Imerson honored her at a faculty meeting this afternoon, praising her for providing help to a large number of Gulf students over the years.
Mrs. Kall has been involved in multicultural events such as Unity Day, Camp Anytown, and Pathfinders, and has worked on the ABC (Assist, Believe, Care) Committee since the 1980s. She has normally been assigned to more than one school at a time.  This year she worked at Gulf and Marlowe Elementary.
She is married to David Kall, who is the technology specialist at Paul R. Smith Middle School. He will also retire at the end of the school year.
Mrs. Kall was a clinical social worker in a community mental health center before coming to Gulf. She was born in 1950 in Cedar Rapids, Iowa. She attended Center Point High School in Center Point, Iowa, and received a BSW degree from the University of Northern Iowa and an MSW degree from the University of Iowa. She came to Florida in 1980.
Mrs. Kall reports that she and her husband plan to do long-distance sailing on their 42-foot boat.
An interesting fact about Mrs. Kall is that when she was 50 years old, she and her husband bicycled from Florida to Iowa. The trip took 30 days. On most nights they slept in a tent.