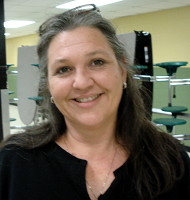 Wanda McClellan, who teaches freshman and senior English, has been named our Teacher of the Year. The announcement was made by Mr. Knobl in a brief staff meeting after school today.
Mrs. McClellan joined the Gulf faculty in the middle of the 2003-04 school year. She is the senior class sponsor, and the voice of Buc baseball, heard on the PA system at all home games. She taught at the Renaissance Center in Citrus County for seven years before coming to Gulf. She was the Citrus County Teacher of the Year in 2002. (An article which appeared in the Citrus County Chronicle in 2004, when she left Citrus County, is here.)
Mrs. McClellan was born in New Orleans but grew up in Monroe, La. She graduated from Ouachita Parish High School in Monroe, and received a B.A. degree at Northeast Louisiana University in Monroe with a major in radio and television management and a minor in journalism.
She is married to Walter McClellan, who works at the MRI Center at Community Hospital in New Port Richey. She has three grown children, the youngest of whom graduated from Gulf High School.
The teacher of the year is selected each year by a vote of the faculty.