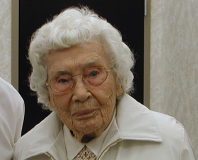 Mittye P. Locke, who was the oldest surviving alum of Gulf High School and the long-time principal of Elfers Elementary School, died yesterday. She was 99 years old.
Mrs. Locke graduated from Gulf High School in 1927. In 1983 Elfers Elementary School was renamed in her honor. A granddaughter, Kelly Rutherford, is a teacher at Mittye P. Locke Elementary School. Kelly is the wife of Gulf High School director of bands Bill Rutherford. Mrs. Locke was honored by the county school board on Dec. 16, 2008, for her long career in education in Pasco County.
Mittye Walker Pierce was born on April 20, 1909. She came to Florida with her parents in December 1912 and stayed in Tarpon Springs for six months while her father located work. She attended school in Elfers for the first eight years; her first teacher was her older sister. As a student at Gulf High School, she performed a piano solo at the school's first graduation on April 29, 1924. She was one of nine students who graduated from Gulf High School in 1927. Her father, school board member Porter Lamar Pierce, spoke at her graduation; Pierce Elementary School was named for him.
Mittye Pierce subsequently attended the Florida College for Women. She began her teaching career at Zephyrhills Elementary School. School board records show she was appointed there on August 6, 1928. She subsequently taught at the one-room Tucker School, near Gowers Corner. School board records show she was appointed there on May 6, 1935. In a 1997 interview she recalled, "I was only making $80 a month, and it was hard to work and continue my studies on that kind of income. So I came back home to Elfers. I did what I had always wanted to do—teach in the school and community I had grown up in." In an 1987 interview she said that she taught six years before coming to the Elfers school. She was appointed Principal at Elfers Elementary School by the school board at its meeting on June 7, 1937. She retired in June 1979. She and another long-time teacher were named Citizens of the Year by the Greater New Port Richey Chamber of Commerce in about 1967. One of her students was her son, Pasco County Tax Collector Mike Olson.