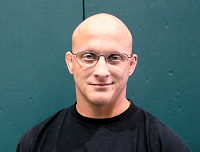 Gulf High School head wrestling coach Travis DeWalt has been named our next Athletic Director. He will succeed Paul Girardi, who will retire at the end of the school year.
Mr. Knobl announced the decision in an email to the faculty yesterday. He reported that a selection committee which interviewed the applicants took four days to come to a decision. The committee consisted of Mr. Knobl, two assistant principals, and two members of the athletic booster club.
Mr. Girardi became Athletic Director in 1979. He and his wife Susan, our school nurse, plan to retire at the end of the school year.
Coach DeWalt joined the Gulf High School faculty in the 2000-2001 school year. He is a 1990 graduate of Gulf, where as a student he was a state wrestling champion. He then went on to become a three-time NAIA All-American and team MVP at Briar Cliff College in Sioux City, Iowa. His 121-20 record made him the most victorious wrestler in the school's history. He coached for ten years before coming to Gulf, most recently as head coach at Hinton Community School. He has been extremely successful as the wrestling coach at Gulf and has been repeatedly named the Sunshine Athletic Conference Wrestling Coach of the Year. He will continue to coach wrestling, but will have fewer classes next year.