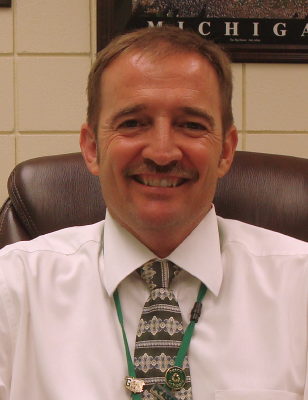 Thomas Brochu, who has been the Assistant Principal for Administration at Gulf since 1998, recently told the faculty and student council members that he will be transferred to Marchman Technical Education Center, effective August 3. His last day at Gulf will be June 30.
At Marchman, Mr. Brochu will replace Emilio Sanchez as Assistant Principal for Community Schools. Mr. Sanchez is a former Spanish teacher at Gulf.
Mr. Brochu said, "It's been a good eleven years. A lot of good things and a lot of good people—students and parents. I've really enjoyed working at Gulf."
Mr. Brochu's responsibilities at Gulf included the facility, operations, and clubs and organizations. He said that after graduation he will be in charge of this year's Extended School Year (summer school). His replacement at Gulf has not been announced.