Gulf High School Quick Links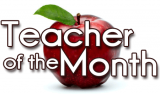 Teachers vote for the Teacher of the Year but STUDENTS select the Teacher of the Month! Click here to vote!
These students smiled for the camera during lunch today.
The NJROTC Color Guard presented the colors last Friday night at the Tampa Bay Rays baseball game. Way to go BUCS!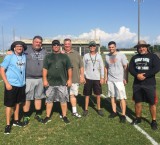 Here are the coaches for our spring football practice, photographed yesterday (4/28). More pictures from practice are here.
We held a lunch today to honor many of our College, Career, and Life ready seniors. Pictures are on our Facebook page and in this album on Flickr.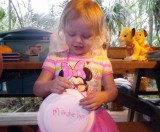 The GHS Leo Club sponsored an Easter Egg Hunt for blind children at the Lions' Den on Plathe Road. They used beeping Easter eggs that the club had purchased. They did various games and activities with the kids, ending with hotdogs and other goodies for lunch. Pictures by the Lighthouse for the Blind and Visually […]
Comments Off

on Easter egg hunt for blind and visually impaired children
•
Continue Reading →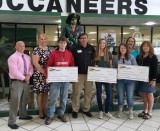 Marcus Amick, Courtney Harris, and Karissa Kittleson were awarded scholarships today by Paul Gigante of Gigante Productions. Congratulations to these students and thank you to Mr. Gigante! A video from 10News is here.
The votes are in! Your 2016 Prom Court is: Girls: Christina Berry Amanda Smith Aubrey Crespo Nicole Gillis Jasmine Jackson Boys: Matthew Sandoval Dylan Brown Red Abelgas Jacob Wentz James Raymond
The following student-athletes qualified for the state meet at the region meet yesterday (4/26) by placing as a top four overall finisher. Anthony Mercado placed 3rd overall in the Shot Put with a throw of 49'7.5" Jasmine Jackson placed 4th with a discus toss 101'0" Ashley Gonyou was the Region Champion in the 300m hurdles […]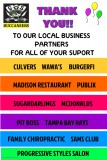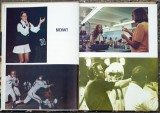 Gulf High School math teacher Jeff Miller has been busy recently uploading old GHS yearbooks. So far he has scanned or photographed every yearbook from 1940 (the first one) to 1977. The uploaded yearbooks, which have been very popular, can be found as individual albums on the Facebook page of the West Pasco Historical Society, […]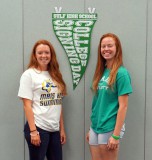 Two athletes signed today: Salliemae Blethroad (Mars Hill University, swimming) and Brittney Pressler (Ave Maria University, softball). More pictures are on our Facebook page and at Flickr.
Congratulations to these Gulf High School students who received scholarships at the Pasco Education Foundation Scholarship Awards Banquet on April 21. Mary and Bob Sierra Family Foundation Scholarship – Juan Leis-Pretto Mary and Bob Sierra Family Foundation Scholarship – Red Abelgas Herman and Mary G. Allen Scholarship – Elizabeth Cruz The Athanassie Family Scholarship – […]
The Gulf High School Math Olympics was held in the gym on Thursday and Friday (4/21, 4/22). Each Algebra I student spent all day in the gym on one of the two days, participating in eight 25-minute lessons by each Gulf math teacher. Each teacher prepared an engaging lesson on a topic that is part […]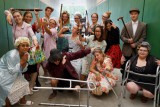 Some seniors dressed as senior citizens on Friday. larger, larger
Mrs. Dale shows Dr. Wildey some new educational software after school today. Dr. Wildey is currently teaching Mrs. Haynes' science classes.
We'd love to have you participate in the 21st annual Gulf High School Alumni Golf Scramble on June 5, to support GHS athletics. The application form with information is here.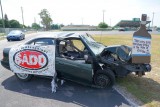 Officer Brett and Coach Buonsanto along with the SADD club want to make sure we are safe on prom night. Please do not let a destructive decision ruin your life or the lives of others. The vehicle pictured was donated by All Hour Towing in New Port Richey and is from an actual DUI accident […]