Gulf High School Quick Links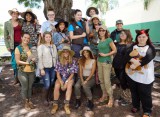 This week has consisted of dress-up days for seniors. Here's the picture from April 21. larger picture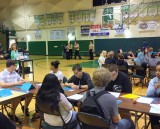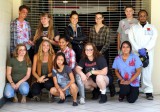 It was Zombie Day for these seniors today (4/20) at GHS. larger picture
Class 2A District 7 Track Meet in Brroksville on 4/19 These athletes will move on to the Regional Meet in Lake Minneola Girls Ashley Gonyou placed 1st in the 300 hurdles, 2nd in the 100 meter hurdles, and 4th in the pole vault Aubrey Crespo placed 3rd in the 800 meters 4×400 meter relay placed […]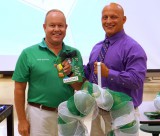 NJROTC CDR John McGuire has been named the March GHS Teacher of the Month for March, and our SRO, Officer Brett Schambach, has been named our March GHS SRP of the Month for March. Both were congratulated by Mr. DeWalt during the faculty meeting after school today (4/19).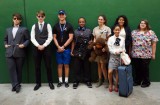 These students are dressed as they expect to dress on April 19, 2026. larger top photo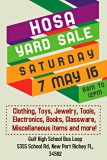 Our Health Occupation Students of America (HOSA) yard sale will be held on Saturday, May 7, 2016 between 8am and 12pm in front of the school. It will be open to the whole community to come and see what we are selling. We are asking for teachers, administrators, students, and others to please donate any […]
This week is Senior Dress-up Week and today is Stay Afloat to Graduation Day. larger photo top
About 50 photos from the Gulf-Anclote Military Ball held at the Spartan Manor on April 8 are in the NJROTC album on Flickr. Photos are by Angela Goldstein.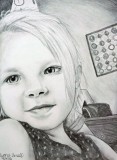 Michele Walicke, one of our reading teachers, likes this drawing of her daughter Kamryn. The drawing was done by Ayana Small, a senior at GHS.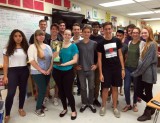 Ledman's period 2 class won the Friday Trivia Challenge this morning! Photo by Joens.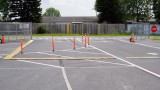 These two photos show recent improvements to the student parking lot. The entrance has traffic delineators to improve traffic flow and reduce the risk of accidents, and the pavement is clearly marked with arrows. The changes were suggested by our SRO, Officer Schambach.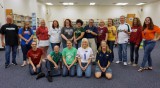 Many Gulf teachers participated in College Colors Day today (4/13). A larger picture is here.
If you are a 9th grader who was absent or not scheduled for testing yesterday's (4/11) FSA ELA Reading, please check the rosters in the cafeteria, media entrance or outside Mr. Boyle's room for testing locations. You should be scheduled to test Wednesday AND Thursday.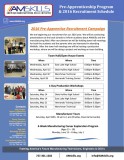 The flyer, from Ms. Donlon.
Carmelo Calcagno has taken over Mr. Eggen's classes. Mr. Calcagno is a 2011 IB graduate of Gulf High School and he graduated from USF in December 2015 with a degree in Social Science Education. He is teaching U. S. History and Government.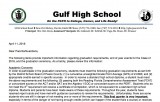 The letter has everything you need to know about graduation. It is a PDF file here.
The NJROTC Color Guard presented the colors at Saturday's Chasco Fiesta Boat Parade. The cadets rode the lead boat the entire length of the parade route and then presented the colors for the National Anthem at Sims Park in front of thousands of people. They represented Gulf High School and the NJROTC program in outstanding […]