2010 — GHS wrestlers are state champions!
OVERVIEW
The Gulf Buccaneer Wrestling Club is a new and exciting program serving New Port Richey and surrounding communities. The program is open to wrestlers in grades K-12 and is affiliated with the Gulf High School team. Our team includes a strong nucleus of experienced wrestlers rounded out by many wrestlers with little or no experience.
Wrestling is a sport that builds physical and mental strength, it rewards dedication and hard work, and teaches the value of the team while allowing the wrestler to compete and develop individually. Wrestling is NOT a sport that enables partial commitment. In order to compete safely and successfully, wrestlers must attend practice regularly and be dedicated to their physical and mental development and building of skills.
---
CLUB PRACTICE
If you are interested in joining the BWC, please contact Coach DeWalt (tdewalt@pasco.k12.fl.us) and fill out the appropriate paperwork. The first day of practice will be April 23. Practices will be every Monay and Wednesday from 4:00 to 5:00 p.m. We hope to see many new faces.
---
FREQUENTLY ASKED QUESTIONS:
How much does it cost to join the Buccaneer Wrestling Club?
The Buccaneer Wrestling Club requires the purchase of a USA Wrestling card ($30) and an updated physical. The USA Wrestling card is additional insurance in the event of an injury. At this time there are no additional fees involved with membership. Please refer to the following link to purchase your USA Wrestling Card: Floridausawrestling.org.
You may not practice until we have the above mentioned items.
What should I wear to practice?
You should wear a shirt, shorts and wrestling shoes. Wrestling shoes can be purchased at Sports Authority, by visiting web sites, or buying from catalogues.
Role of a Novice Parent (Wednesdays)
We ask that all parents stay to watch and encourage their kids. This is a great way to learn the sport, understand the terminology, and provide a positive atmosphere for the kids.
---
TO REGISTER
To register, please email Coach Travis DeWalt the following information: Name of athlete, name of parent, date of physical, USA Card Number, parent contact number.
---
STAFF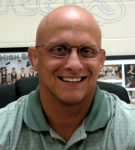 Travis DeWalt began his wrestling career as a member of the Longwood Lions kid club in Long Island, New York. He moved to New Port Richey (Gulf High School) Florida and won a State Championship in 1990 with an overall record of 114-12. Before wrestling in college, Travis represented the U.S. on a team that toured Cuba and also placed 4th in the U.S. Espoir Free Style National Tournament. While in college DeWalt represented the U.S. in free style, two more times, both in Russia. He was a three time All American with an overall record of 121-20.
As Gulf High's head coach, he and his staff have resurrected the GHS program. The Buccaneers have accomplished the following in the past 11 years:
8 X SAC Conference Champions
7 District Championships
1 Regional Championship
5 Top 4 finishes at Regionals
3 Top 5 finishes at the FHSAA State Wrestling Tournament
2010 Class 1A State Champions
20 State placers including nine finalists and 5 champions
His philosophy is simple: Our wrestlers must have the desire and ability to score on an opponent at will. When in every position the simple thought, "how can I score" should be prevalent and relentless. Off the mat we encourage our guys to be positive and contributing members of society. Email Coach DeWalt
---
REQUIRED ITEMS
USA WRESTLING MEDICAL INFORMATION AND WAIVER FORM
PARENT RELEASE (Please notarize)
You need to have purchased a USA Wrestling Card. Please go to floridausawrestling.com and register under Buccaneer Wrestling Club.