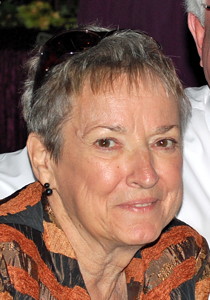 Gail Crowder, who was an assistant principal at Gulf in the 1980s and early 1990s, died early on the morning of Sept. 6.
In an email, Pat Haynes, who was in the Gulf administration with Mrs. Crowder, wrote: "I admired her as a person who was warm and caring in her encounters with our students. You might not have liked what she said, but she was always looking out for the well-being of the students. Both faculty and parents she encountered in her tenure at GHS recognized her dedication in trying to make a difference in the field of Education. She was very professional and knowledgeable in her craft, whether it be a teacher, administrator, cheerleading sponsor or any other task that she was given. She will be missed by all, but I know that she has left a positive impression upon all who had the privilege of knowing her. My prayers go out to the Crowder family at this difficult time."
Her obituary follows:
Beverly "Gail" Crowder, age 71, of Tallahassee, Florida, went to be with the Lord on September 6th, 2012.
She was born in Bremen, Kentucky, on May 8th, 1941. Gail graduated from Western Kentucky University with a degree in Education. She later earned her master's degree in Educational Leadership from the University of South Florida. She married Dan Crowder on February 4th, 1967.
Gail loved teaching; both academic subjects and bible studies. She spent 23 years blessing others through her career in education. Her family has cherished the outpouring of love from her former students, colleagues, and from everyone whose lives she touched.
She was preceded in death by her parents, T.H. and Jeraldine Bruce and her sister, Neeta Ann Anderson. She is survived by her husband of 45 years, Dan Crowder; two children Bruce Crowder (wife Melanie) and Kelly Seay (husband Glen) and five grandchildren; Luke Seay, Joshua Crowder, Lawson Seay, Annika Crowder, and Lilly Kate Seay.
A Memorial Service will be held this Saturday, September 8th, 2012 at 11:00am at the Parkview Baptist Church in Lake City, Florida.