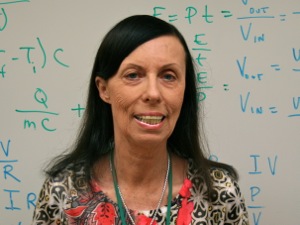 Janice Long, who has taught science at Gulf High School since 1980, will retire at the end of the school year.
Mrs. Long joined the Gulf faculty in August 1980 and is thought to have the fifth longest tenure at GHS, after Mr. Mayer, Mr. Rebensky, Mr. Barrus, and Mr. Robinson.
Mrs. Long has taught environmental science, marine science, chemistry, physical science, and biology. When she started here, the 300 building did not exist. When it was first used, there were only three science classrooms. She moved into the building not long after it was built.
Before coming to Gulf, Mrs. Long was a guidance counselor at Breckinridge County High School in Hardinsburg, Ky. She had earlier graduated from that school, and was the class valedictorian. In Kentucky, she was a  Rank I teacher, equivalent to having a Ph. D.
Janice Whitely was born in Louisville, Ky.  She has B. S. degrees in Biology and Chemistry from Western Kentucky University. She originally wanted to become a veterinarian, but was discouraged from that because she was a woman. She did a graduate assistanceship at Western Kentucky, and obtained an MSCT (master's) degree in microbiology.
Mrs. Long was in the army reserve for 19 years, reaching the rank of captain.  She has been a member of the Cotee River Lions Club for 19 years, and attends Our Lady Queen of Peace Church.
A son and daughter are twins, Jamie and Janie, who graduated from GHS and Ridgewood in 1998, and a younger daughter Jennifer, who graduated from Ridgewood in 2001.
Because the twins graduated from different schools on the same night, the two schools made a special arrangement to announce their names out of alphabetical order.  Mrs. Long was able to hand Jamie his diploma at Gulf, where his name was called first, and then she drove to Ridgewood to see Janie walk across the stage. Her name was called last.
Mrs. Long's first grandchild is Janie's daughter Noella, who turned one year old in February. Mrs. Long says her first priority after school ends is for her and her husband John to see their granddaughter, who lives in Calgary, Alberta.