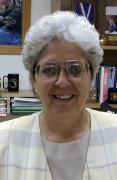 Cheryl Renneckar, who has served as Gulf's principal since 1991, plans to retire on July 1.
She told the faculty and staff of her decision at a meeting on May 28, the first of two teacher planning days that follow the last day of school for students.
Ms. Renneckar has held the position longer than any principal in the 80-year history of Gulf High School.
She was selected by the Department of Education as one of the top five Principals in the State of Florida and was honored with the "Commissioner's Outstanding Principal Leadership Award" in 1996.
Before coming to Gulf High School, she was Assistant Principal for Curriculum and Instruction at Ridgewood High School for six years.
Ms. Renneckar is originally from Ohio. She earned a Bachelor of Science degree from Bowling Green State University. She served as a graduate assistant and earned a Master of Science Degree at Illinois State University and has completed administration certification course work as well as work toward an Ed. D. at the University of South Florida.
She started her education career in 1969 as a physical education teacher in Illinois. She came to Pasco County in 1972 and worked as a physical education teacher at schools in Zephyrhills. She coached varsity sports at Saint Leo College from 1973 to 1976.
Renneckar transferred to the Hernando County schools in 1975, working for 10 years as a teacher, dean and assistant principal at Springstead High School. In 1985 she came back to Pasco to take a job as assistant principal at Ridgewood.