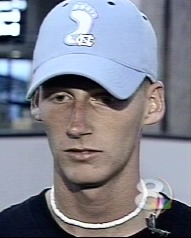 This article appeared in the Tampa Tribune on Jan. 25, 2004. Photo courtesy of WFLA Newschannel 8.
By MONICA SCANDLEN and STEVE KORNACKI
NEW PORT RICHEY – Marine Cpl. Joshua D. Harris, 21, was halfway through his five-year military commitment.
The Gulf High School graduate spent nine months in Kuwait and Iraq last year as a helicopter crew chief and was preparing to ship out again for six months aboard an aircraft carrier.
But Harris and three other Marines were killed Thursday when their UH-1 Huey helicopter crashed during a training flight at Camp Pendleton, north of San Diego.
"Once you know he's back home, you think he's relatively safe," his mother, Debbie, 45, said Saturday at the family's home in New Port Richey.  "I think we let our guard down."
A camp spokeswoman wouldn't confirm reports the helicopter hit power lines.
The other victims were identified as Capt. Adam E. Miller, 29, of Midlothian, Ill.; 1st Lt. Michael S. Lawlor, 26, of Timonium, Md.; and Staff Sgt. Lori Anne Privette, 27, of Zebulon, N.C.
The Marines were part of a detachment from Marine Light Attack Helicopter Squadron 169.
Harris, the youngest of three siblings, joined the Marines on Sept. 6, 2001, to help pay for college.
When he returned home in October after his nine-month tour of duty, his family greeted him at Tampa International Airport with a red sign with gold lettering – Marine Corps colors – that read: "Welcome Home Josh! USMC."
In Iraq, Harris had scouted to prevent ambushes.
"It made it pretty hard knowing that there's Marines out there and Army soldiers out there dying," he told WFLA, News Channel 8, in October. "It's an experience I will never forget."
In California, Harris enjoyed snowboarding and riding his motorcycle through the mountains, said his brother, Jacob, 25.
Harris' family, including his father, Charles, and sister, Chasity, 22, pored over photos Saturday, preparing to make a collage for his funeral, which will be this week in Jenkins, Ky.
In one portrait, Harris is somber, dressed in his formal uniform. In another, also in his dress blues, he beams as he escorts his sister at his brother's wedding.
Harris was dyslexic, and his family plans to start a college scholarship fund for dyslexic students. Debbie Harris said her son, who played golf and tennis at Gulf High, overcame his dyslexia by learning from watching others.
As a child, Harris had wavy red hair. His mother grew tired of people asking whom he inherited it from, so she changed her hair color to match.
"Actually, I have his coloring now," Debbie Harris said.
Information from The Associated Press and the San Diego Union-Tribune was used in this report.