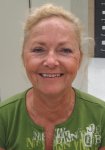 Sandra Gustafson has been named the employee of the year among non-faculty members at Gulf High School.
Mrs. Gustafson is the attendance secretary. She has been employed at Gulf High for five years and has served as the ESE secretary and a substitute teacher. She also served as the attendance secretary previously.
She was born in Fordsville, Ky., but grew up in Indiana. She graduated from George Washington High School in Indianapolis.
In the past, she has been employed as a cosmetologist and also worked as a medical secretary and a legal secretary.
Mrs. Gustafson's husband Philip is retired. She has two sons and two daughters, all of whom attended Gulf High. Tammy Denbo is an attorney practicing in Tampa and is also an assistant coach of the Tampa Bay Buccaneers cheerleaders. She is a former Tampa Bay Bucs cheerleader. Wendy Denbo is in her third year attending USF and does equestrian riding. Robert Denbo is a fireman. David Denbo is general sales manager of Autoway Lincoln. Mrs. Gustafson's children sent her a gift box of cookies to congratulate her on her selection as SRP of the Year. It's currently on display in the front office and is pictured on the right.
The announcement of the selection of Sandra Gustafson was made on Sept. 28 by Cathy Mirenda, who is the chairperson of the SRP of the Year Selection Committee.
Employees of the Pasco County school district who are not teachers are called School Related Personnel.