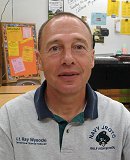 Senior Naval Science instructor Lt. Raymond Wysocki has been named Gulf High School's Teacher of the Year.
He and this year's SRP of the Year were honored with cakes by Mr. Imerson this afternoon. Mr. Imerson will announce their selection to the teachers at the next faculty meeting.
Lt. Wysocki joined the Gulf faculty in January 1999. Earlier, he had served as Senior Naval Science instructor at Northmont High School in Dayton, Ohio, from 1996 to 1999.
He was born in Grafton, North Dakota, and grew up in Minto, North Dakota, graduating from Minto High School. He attended the University of North Dakota for three years and received an external B. A. degree in business from the University of the State of New York. He obtained a commission as an officer at Officer Candidate School, Newport, Rhode Island. He was on active duty for 20 years in the U. S. Navy, where he served as a supply officer. He served aboard the submarine USS Caiman and the following ships: USS Farragut (DLG-6), USS Hunley (AS-31), USS Ingraham (FFG-61), and various shore commands including Naval Station, Philadelphia; Naval Air Station, Patuxent River, Md.; Naval Supply Corps School, Athens, Ga.; Transportation School, Oakland, Calif.; Navy Cargo Handling Group, Williamsburg, Va.; and Naval Technical Training Center, Pensacola, Fla. His favorite duty station was the Navy Cargo Handling Group because it took him to such places as Seoul, Korea; Thailand; and Antarctica. He retired from active duty in March 1996.
Lt. Wysocki is married to the former Jean Furci from Lorain, Ohio. She works in the administrative office of the Pasco County Health Department.
Lt. Wysocki, who has five adult children, will retire from teaching at the end of this school year. He says he will spend his first year of retirement relaxing. He said, "They always say in the Navy that Navy wife is the hardest job in the Navy. But being a teacher is actually the hardest job."